Fani Cyclone in Odisha LIVE: Running on the coast of Odisha, Fani runs at a speed of 245 km / h
Cyclonic storm Phani has reached the coast of Odisha. The speed of the wind has increased very fast due to the Fani here. Due to the continuous rain, public life has become disorganized. Landslide is starting at Puri's shores. Over three and a half lakh people have been sent to safer places. The team of disaster management is ready to deal with the storm. Due to Fani, there has been an impact on rail, road and air traffic. This is the first storm of such intensity to rise in India's neighboring sea area in the last 43 years in April.
LIVE Upsates: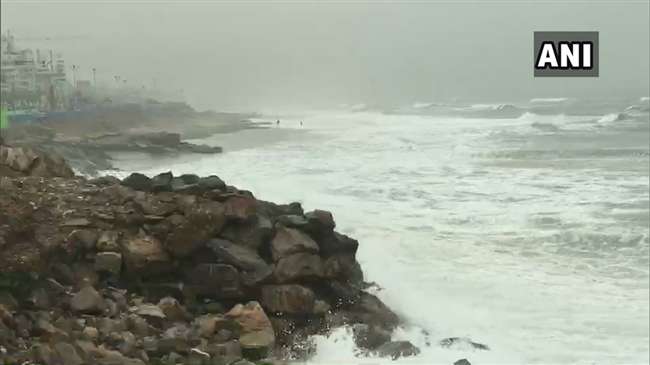 ANI
According to the Hyderabad Meteorological Department, winds are running at a speed of 245 km per hour in Puri, Odisha. With this, there is also heavy rain. After the landslide, its impact will be reduced and these storms will turn towards West Bengal.
- Fani storm hit the coast of Odisha. Andhra Pradesh: Relief campaign by NDRF (National Disaster Response Force) is going on in Kotturu Mandal of Srikakulam. It rains today and there are strong winds going on.
- With the help of strong winds and storms, people's life has become disorganized as well as the storm hits the ground.
- The administration has created detailed action plans to deal with the problems caused by the hurricane.
- The hurricane hurled into the ground in Odisha. Bhubaneswar Meteorological Department director HR Biswas said that at 8 AM the ground was hit by the ground. He told that it will take about two hours to complete the land. It hit the ground near Puri.
HR Biswas, Director, Met Department, Bhubaneswar: Extremely severe cyclone Fani landfall started at 8 AM. Some of It'll take 2 more hours to complete landfall process Landfall position is close to Puri. It will continue upto 10.30 AM.
- Landslide has started on Puri coast of Odisha. Due to cyclone storm, rain is raining in the coastal areas with strong winds.
- Rain accompanied by strong winds in Digha of West Bengal. Due to cyclone storm, landslides may occur at many places in Odisha till 11 o'clock, while landslides have started in many places.
- Rail service in Odisha has been disrupted due to the cyclonic storm. East Coast Railway has further canceled 10 trains today. It was informed that the Railways had canceled 147 trains in the 1st to 3rd May.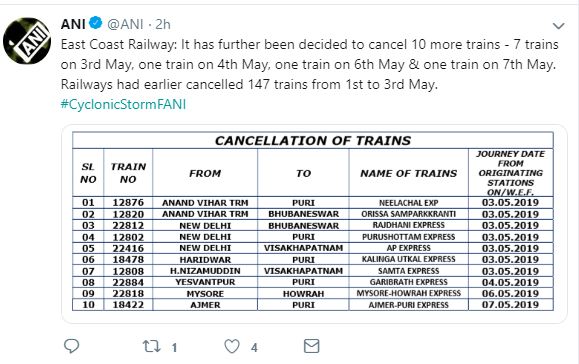 - West Bengal has also become completely alert for dealing with Cyclone Phani. The disaster management team in Kolkata's Bichlali Ghat is on alert from now. Explain that Cyclone Phani will be seen in Puri in Odisha.
According to the Meteorological Department, cyclonic storm Phani is likely to move forward towards north-west and by the evening on Saturday, this cyclonic storm could enter Bangladesh.
According to the Meteorological Department, the cyclonic storm will hit the coastal areas of Fani's Odisha coast along with strong winds and rain as well as gradually move north-north-west. Then gradually the cyclonic storm will become weak. Along with this, the Meteorological Department said that the hurricane will reach West Bengal by speeding up till Saturday morning.
- The impact of the storm is also seen in South Bengal. Due to heavy rains and strong winds, many tourists are badly trapped. To remove the stranded tourists, the South Bengal State Transport Corporation (SBSTC) has started operating 50 buses from Digha. Buses have been started from five o'clock in the morning to remove the stranded tourists in Digha.
- Bhubaneswar airport will be closed for 24 hours, while Kolkata airport will be closed by 6 pm on Friday.
- DM of Ganjam district told that 301460 people have been dispatched to safe places to prevent cyclone storm. At the same time 541 pregnant women have been carefully taken to the hospital.
- To help tackle cyclone storm, the Home Ministry has released helpline number. The help line number issued by the Home Ministry is 1938.
- Paradip of Jagdishpur district of Odisha is raining with strong winds. Due to cyclone storm, rain has started with strong winds in Odisha's Puri. All coastal areas of Odisha have been declared high alert.
- In many districts of Odisha today the impact of cyclone hurricane can be seen. Rain has started with strong winds in several districts since Friday morning.
Information has been given from the Chief Minister's Office of Odisha that more than 10 lakh people have been taken safely in 24 hours to avoid the storm. 3 lakh in Ganjam in Odisha and 1.3 lakh people in Puri district have been kept in safe places. 5000 kitchens have also been built in safe places.
The Meteorological Department had already issued a warning and said that the severe cyclonic storm in the Bay of Bengal will hit the coast between Puri, Gopalpur and Chandbali in Odisha from 8 am to 10 pm on Friday. On Thursday evening it was located in the south-west of 320 kms from Puri. The wind speed can hit 170 to 180 km and maximum 200 km per hour when it hits the coast. This can be judged from its disturbance. This is the first storm of such intensity to rise in India's neighboring sea area in the last 43 years in April.
PM Narendra Modi reviewed preparations made by various departments for dealing with the situation on Thursday to tackle the storm. In 15 districts of Odisha, more than 10 thousand villages and 52 towns can storm the storm. This will affect more than 12 lakh people. So they are being sent to safe places. All the three armies and other agencies have already been alerted. The Air Force has practiced the operation of fighter aircraft from the Civil Airport of Guwahati, Kolkata and Andal so that relief and rescue operations can be started from here.